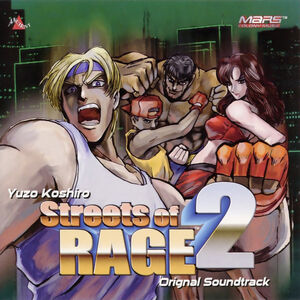 Streets of Rage 2 Original Soundtrack, catalog number MCM-10106-2, is a music album released in 2000 by Mars Colony Music and recorded by Ancient, Corp. It contains the soundtrack for Streets of Rage 2, composed by Yuzo Koshiro and Motohiro Kawashima.
Tracklist
Edit
Go Straight 2:42
In The Bar 1:27
Never Return Alive 3:56
Spin On The Bridge 4:36
Ready Funk 1:45
Dreamer 2:27
Alien Power 3:16
Under Logic 1:59
Too Deep 3:57
Slow Moon 2:29
Wave 131 3:15
Jungle Base 3:40
Back To The Industry 1:11
Expander 2:38
S.O.R Super Mix 5:47
Max Man 2:12
Revenge Of Mr.X 1:29
Good End 1:54
Walking Bottom 2:06
Little Money Avenue 2:50
External links
Edit
Community content is available under
CC-BY-SA
unless otherwise noted.